Go paperless in one business day.
The Aviation Docs™ paperless flight deck solution is so easy to use, and so easy to train, you could be paperless within one business day.
Pilots today access hundreds of documents to operate all the systems on aircraft -- manuals, handbooks, MELs, access to regulatory information, flight plans, passenger lists...

Carrying documents in paper format adds unnecessary weight to the aircraft. In fact, a typical business jet carrying 40 pounds of manuals could easily spend over $100,000 a year transporting paper*.

The task of managing paper documents is time-consuming and often err-prone -- ensuring that every binder has the correct version of manuals with updated pages, and that the pilot is aware of the changes.

The solution combines applications for iPad and Windows-based EFBs, with the power of the Aviation Docs Cloud™ server network. The entire logistics problem is reduced to the time it takes to drag/drop all the files onto the cloud, and the time it takes a pilot to press the SYNC button on the iPad.

*Citation X - 1000 hr/yr/MCT
How does it work?
Aviation Docs™ is a powerful online service that allows documents to be updated easily by fleet managers, operators and pilots in a very efficient and organized workflow.
Fleet managers launch the
Aviation Docs Ground Console
, login and "drag and drop" electronic documents into specific pre-organized online folders called "Libraries" that are based on industry best-practices.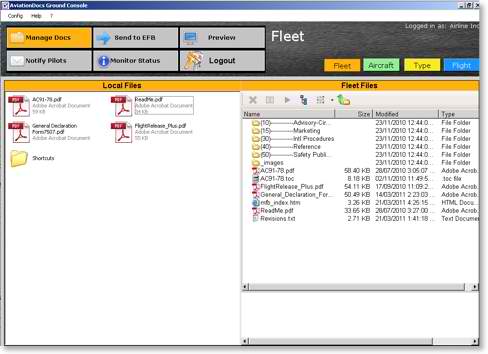 The system notifies pilots of changes via e-mail. The pilot clicks a sync button causing the automatic transfer of the libraries to the pilot's Electronic Flight Bag or iPad®.

Audit Trail
An audit trail is created so the fleet manager can prove that the documents have been successfully delivered and that the pilot is "compliant" (i.e. has all documents on-board required to fly).

Note that Green (see below) means compliant: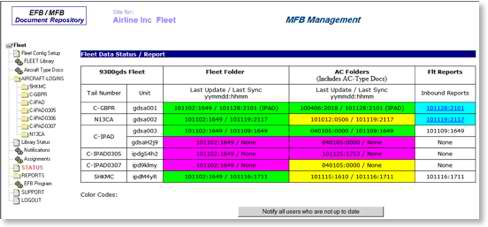 Four Basic Libraries.


Placing a document into a library folder using the Ground Console causes it to be delivered efficiently to the correct EFB or iPad device.

The Fleet library is sent to all aircraft in an entire fleet.
The Aircraft library is sent to a specific aircraft using its tail-number to identify the aircraft.
The Aircraft Type library is sent to all the aircraft of a specific type within the fleet.
The Flight library is a special library used to contain all "flight specific" data such as flight plans, NOTAM and passenger manifests, sent to a specific aircraft.
Worry Free.
The OBDS Cloud™ server network handles all the technical details of document storage and distribution for you.
The system is backed-up daily. That means if you accidentally delete something, we can find the original copy for you.
The system is designed to withstand internet, server failure, and uses redundant internet providers so that one can always get through.
The system eliminates viruses and malware in the transmission pipes themselves. That means that if you accidentally pass a file containing a virus to our system, we will reject the file before it has even touched our hard disks.
The system performance and speed of transmission is blisteringly fast, limited primarily by the speed of the internet connection you are using on your EFB or iPad.
Access performance where we have tested has proven excellent from remote corners of the globe.
All that, at your disposal for less cost per aircraft than a month of Starbucks lattes.
What Hardware Does it Run On?
Our software runs on Apple® iPad and all Class 1 and Class 2 Windows-based EFBs.
On iPad, our application Aviation Docs™ for iPad delivers documents to the iPad and provides both a "shell" to find and access the documents, and a "viewer" to read them.
On Windows-based EFBs (ex. Fujitsu Tablets, Esterline CMC PilotView, Goodrich, L3, and any tablet or slate-PCs), Aviation Docs™ for Windows is an application suite that includes our famous MFB™ (Multi-function Flight Deck Browser) application and provides superior functionality.
Aviation Docs™ for Windows is included with your OBDSCloud subscription. It not only delivers the documents to the EFB, but also acts as a full-featured EFB shell, automatically installing and launching applications such as JeppView FlightDeck, Ultranav, etc... all from a secure shell. Aviation Docs™ for Windows is our top-of-the-line application which provides a true Zero-paper cockpit experience whereby the pilot can not only receive documents, but also create them and send them using digital ink and PDF forms back to the fleet operator -- via the cloud. OBDS offers a customization service to help you design a truly paperless workflow for your fleet.